A few months ago, I was asked to test out another mood tracker app. This one is much different from my last Daylio review.

So this one is super different from other mood tracking apps because it is so much more than that – it's a journal app. I've never been one for journals. I remember attempting to keep to a journal for years, unable to dedicate myself to the craft. My problem wasn't writing too little or not knowing what to write about, but rather writing way too much, becoming overwhelmed, and not wanting to write the next day for fear that I would write for 2 hours about my dreams and very specific details about what happened that day.
The Journey app is not like that, but I easily could have made it that way if I wanted to.
The app works on a cloud and you need to use your Google account to access it. This app is not just your regular ol' journal application because it is extremely customizable, which I love. There are so many details you can add to your day (maybe too much) like the weather, location, whether you are stationary or hanging out on a moving bus/plane.
This isn't exactly a mood tracking or weather tracking device specifically, but you can make it whatever you want. I played around with it a little bit.
As you can see here, I played around with adding inspirational quotes by my favorite author, Augusten Burroughs, to keep me going through the day. I tried to make it a mood-tracking app, but as you can see here, it just didn't work for me that way.
The app does not automatically send you reminders to update, but you can set one yourself for whatever time you want and however frequently you want. Were I to continue using this app, I would set a reminder every day. I had mine set at 7PM towards the end of my review period.

You can easily set whatever time you want in the settings section, where you can also link your google account and choose a password.
I was a little concerned with security at first considering all of it is saved on the Google Drive cloud and that it tracks everything, including whether you are in motion?! You can turn off the permissions in your app settings, which I did on the second day, but I was still a bit concerned in case my account was hacked or if someone could access it through google, so I asked the Journey app team how they protect their users' information. This is what they told me:
Journey encrypts your file and stores them in Google Drive hidden in-app data which cannot be accessed by anyone, including the owner. If you with to know more about how Google Drive handles your data, please read more about it here.
So, it sounds pretty legitimate. I was convinced that Journey was doing all that they could to allow their users the experience to use an online journaling application for whatever they wanted, with the ability to store it on a cloud, and take it with them wherever they wanted.
Here is what an entry looks like in the app in case you're curious: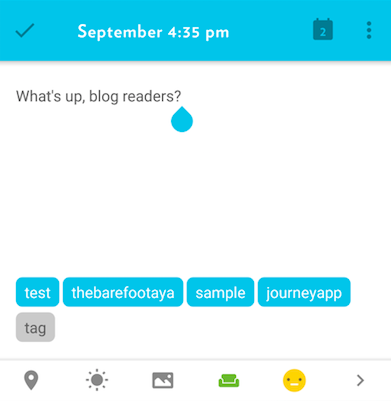 It automatically records the date, time, weather, location, and whether you are moving around or not with the original permissions intact. The buttons on the bottom allow you to add more information. On top of the buttons are any tags you may want to add in order to search for the entry later (ideas: panic attack, fight, great day, work, bad day, etc). The buttons are as follows from L to R: Location, Weather, Media (photo/video), Activity, Mood. If you scroll to the right of that, you will find tools for formatting your entry. To the right of that, they will give you a word and character count. There is so much information that you can literally use this app for almost anything!
Since I'm not much of a journal app writer, I had to come up with alternative uses. Here they are:
1 – Track Illness Symptoms
Adding photos and other media along with descriptions of the symptom and the time of day is incredibly helpful. I would have loved to have this app when I got sick because I used the notes app on my phone instead. That sucked. I definitely would have used the tag feature for symptoms and mood for how bad it felt.
2 – Therapy Sessions
How are you doing in therapy? What happened in therapy? I tried this for a bit – using the app to talk about my therapy sessions and how I was improving. I think it would be a great way to track how you're applying yourself to what you learn in therapy.
3 – Tracking Mental Illness
I tried using it for depression, but you can also use it to track bipolar disorder, PTSD, and whatever else you have going on.
All in all, this app is great if you need a customizable journal app to manage your life. It's definitely what you make of it.