This isn't your average kind of granola since most are actually quite unhealthy. No, these products are both gluten-free and vegan. Some, like the 'Super Seeding Expectations' granola, are also PALEO!
A new granola brand exists and it's based in Salt Lake City, Utah. Adorned in 70's style graphics, it's called 'Funky Oats.'
Paleo, Vegan, and Gluten-Free
Unlike many other options out there, these granola products don't contain any of the 'fluff.' The 'Super Seeding Expectations' granola only contains one sweetener: maple syrup. It also has high nutrient ingredients such as pepitas, coconut, sunflower kernels, goji berries (high in antioxidants and Vitamin A), flax seeds, with some added vanilla and almond extract. That's it.
Notable Funny Names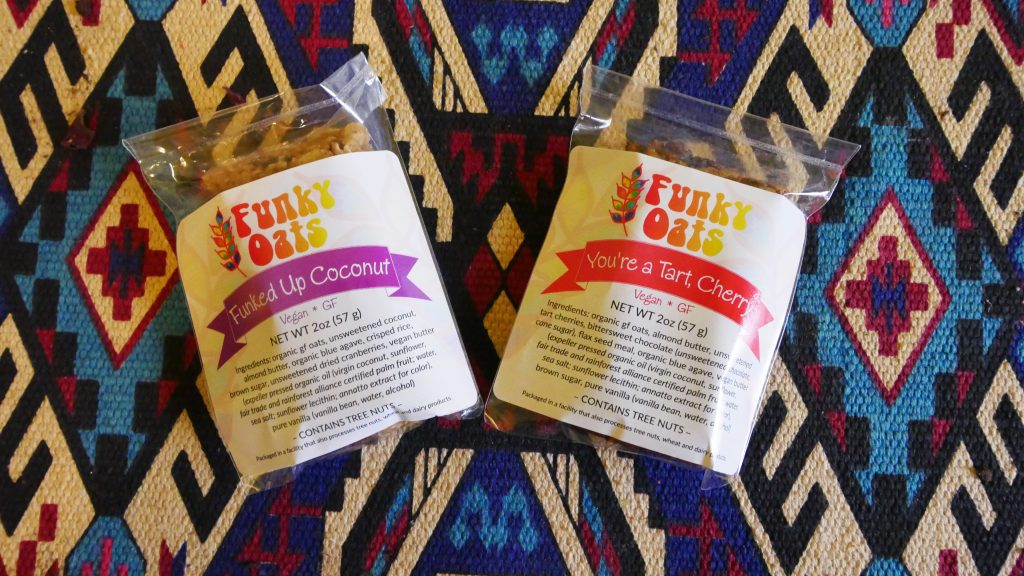 Funky Oats doesn't just have loose granola. They also have granola bars. These aren't paleo because they contain gluten-free oats, which is a grain. However, they are still vegan and gluten-free. The bars were my absolute favorite! With silly names like "Funked Up Coconut" and "You're a Tart, Cherry," they make great gifts for your health-conscious friend.
Funked Up Coconut
These bars were insanely delicious and I knew my partner would love them for the name alone. "Funked Up Coconut:" it's too good. The bars aren't too sweet and they're a great healthy snack. For their small size, they can fill you up well.
"You're a Tart, Cherry"
This was my favorite one. The cherries taste so perfectly well with the chocolate chips. Once I get the chance, I am definitely ordering more. The hardest part of these snacks was trying not to eat all of them!
For now, you can order Funky Oats products online here on their website. The oats bars are only $2 and a large bag of granola is just $8. If you're looking for a snack that's truly healthy and won't break the bank, look no further!
Want more healthy snacks?