As an official blogger for the GFAF Expo in Worcester, MA, I didn't know what to expect but gluten-free madness. I met some interesting bloggers and others who need to make living allergen-friendly a priority in their lives (or else they nearly die from anaphylactic shock in Austria). Oh, and I have a new diagnosis.

---
The Expo Itself
So the expo was pretty packed on both days. Of course I'm such a good blogger that I didn't take photos of the place itself and only my favorite things… Sorry.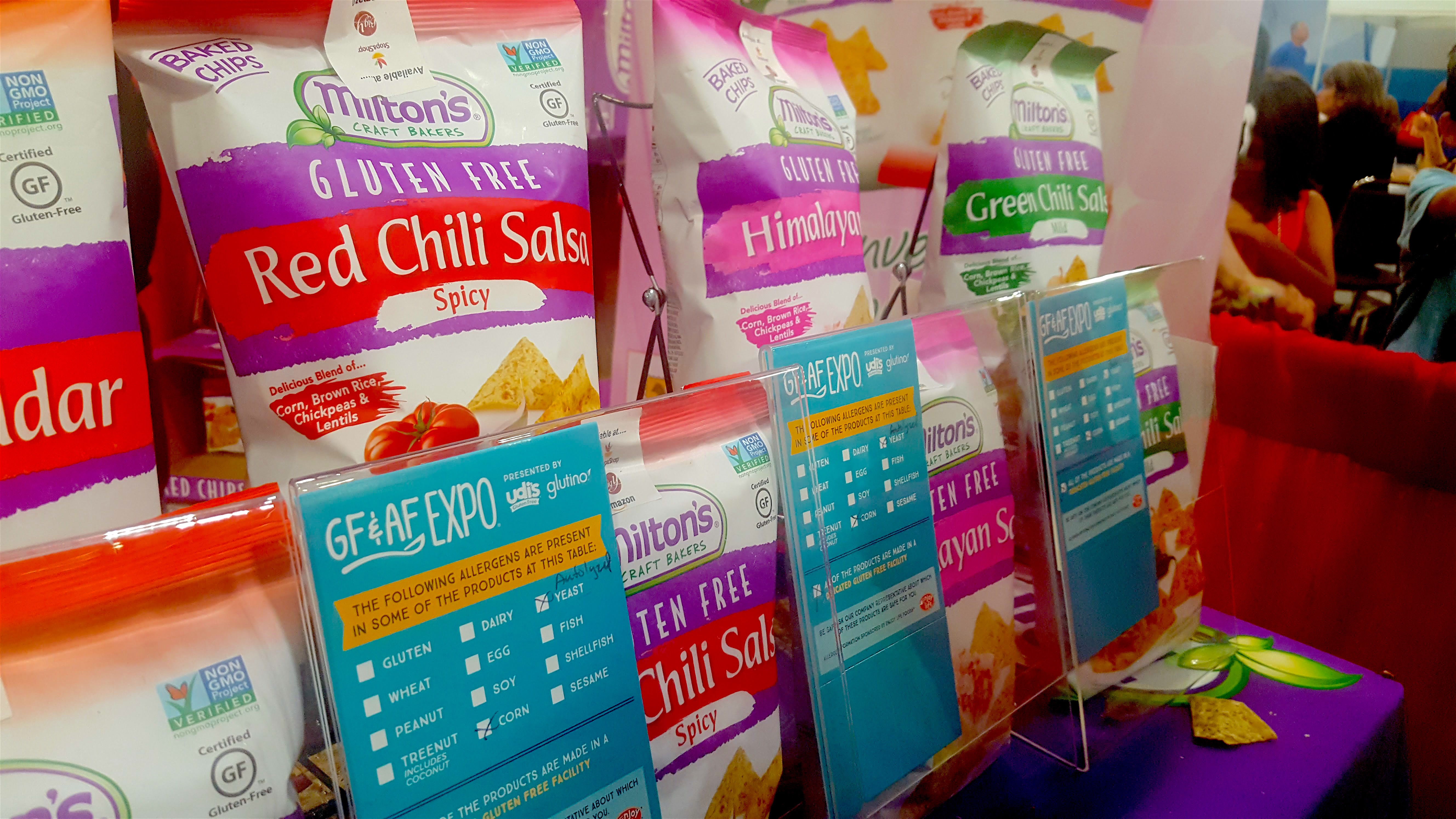 Every product at every vendor table had a little place card with common food allergens, so people could more easily determine what they can/can't eat and they don't have to ask every damn time, "Hey hi so what is every ingredient in your product?" Even with these cards, I still had to ask.
I was curious, for one, but also the cards did not mention processed sugar or preservatives. I know that sugar isn't really considered an allergen, but I am so intolerant of certain preservatives that I could be sick for weeks, so I had to make sure. I'm happy to say that I didn't get sick from anything at the expo even though I totally cheated on the sugar.
Hung out with bloggers Rachel & Pranita from That Gutsy Girls Life, soon-to-be badass functional NP Kat from The Cynikal Kat, Cup of Coffee with Katie, CJ of Tumbling Gluten Free, and others.
---
The Products
Every product at GFAF is gluten-free, but not everything is nut-free, soy-free, or whatever you need it to be-free. Since I started going gluten-free last August, I've been less depressed and completely headache/migraine-free. Upon entering the expo day 1, I explained this to some of the other bloggers and they gave me this all-knowing look with a "yeah, you have celiac."
Really?
Yes. Chronic headaches are one of the main symptoms of celiac disease. WHAT? I kept this in the back of my mind.
When you enter the expo, you get a reusable grocery bag half-filled with product samples which you continue to fill as you visit each vendor, who will give you more products. I have so many boxes of gluten-free rice that I've gladly given to my parents, who loved the expo, btw:

(My mom spilled crumbs all over my car and then told me I could clean it up – classic)
When you have a super strict diet, it's hard to find decent healthy snacks. I'm probably always going to go with my classic vegetable sticks and curry cashews, but others, especially at this expo, are looking for replacements. There were plenty of replacements there, including chips, pasta, milk, yogurt, and lots of the best gluten-free pizza I've ever had.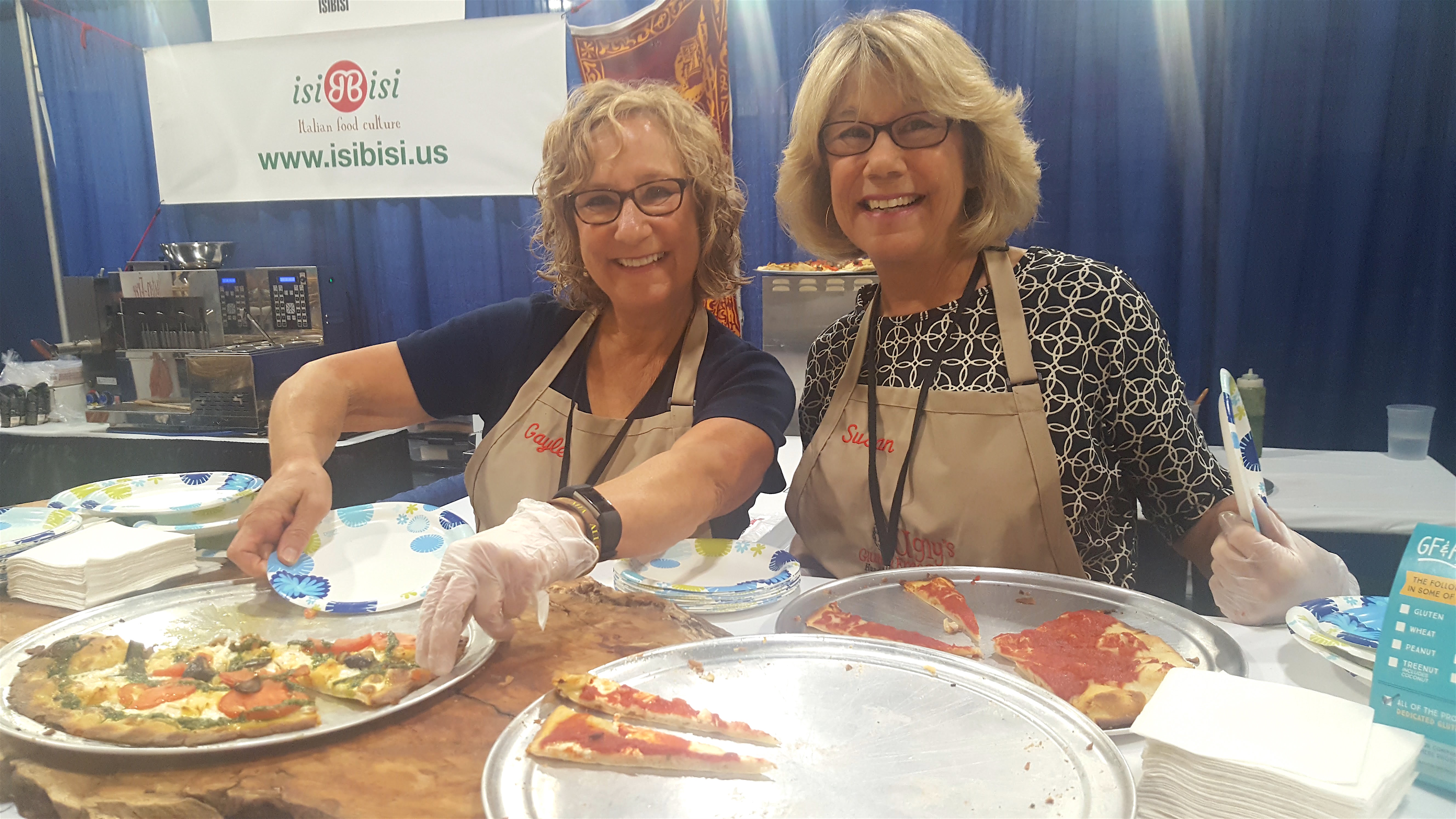 Ugly's Gluten-Free Bakery (pictured above) is based in PITTSFIELD, MA, but their products are all over the Berkshires and Upstate NY. If you're driving through, I can't recommend their gluten-free pizza crust enough. It's not paleo, but it's paleo enough, okay, and it tastes just like "real" pizza! Plus, they made a dairy-free version (rightmost) for the expo and I really appreciate that.

I tend to make all my own snacks, but I've never been able to get kale chips down the way some of these companies do.
Rhythm Superfoods
 has a beautiful selection of healthy snacks to help out with that. They even have a
vegan bacon flavor
that
really tastes like bacon
. These ladies were 
so kind and wonderful
. They hooked me up with a few delicious kale chip samples which I quickly gobbled down on the 2hr ride home. Now, these products aren't paleo. Most of their products contain cane sugar, so make sure to watch out if you're trying to avoid that.
Another product I tend to make myself? Nut butters… if you don't want to make your own nut or seed butter, though,
88 Acres
has a few great options. They're made out of sunflower and pumpkin seeds along with a few other spices and sugar. 🙁 The pumpkin seed butter seemed promising until I recognized the shocking amount of sugar present. I can't deny it was delicious, though. They also have granola bars that are 
to die for
. The
apple and ginger bars
were my favorite here, but they're still not paleo. *cries*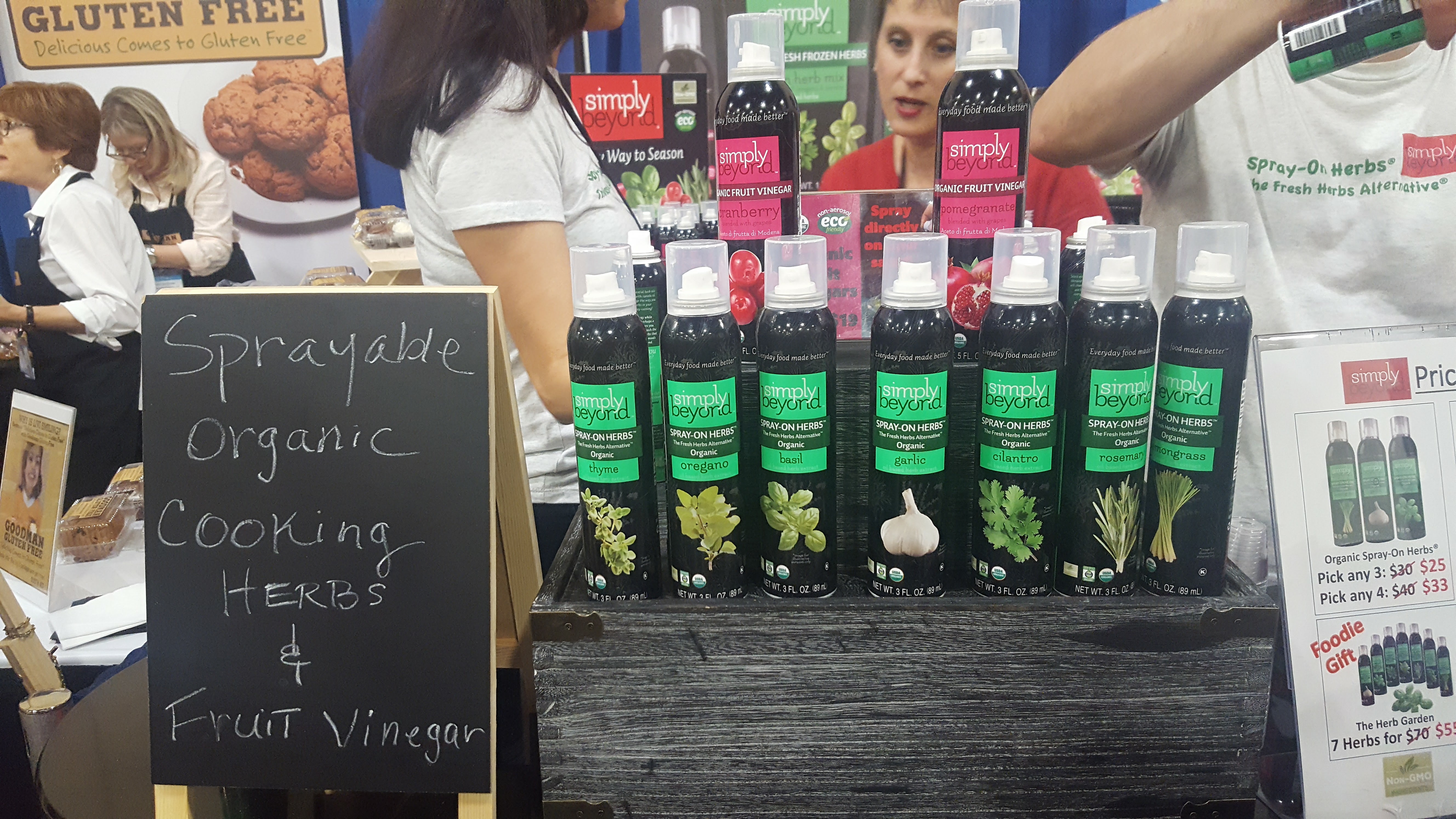 I met with some representatives from
Simply Beyond
 and discovered spray-on herbs. Sounds strange and tin-tasting, but they use a sealed bag inside of the can to maintain freshness. *sigh* When I found out the ingredients, I learned that they use canola oil. This one dude continued to explain that canola oil "isn't actually bad for you" and
I was like
:
BUT the spray-on herbs were 
so delicious
and 
so potent/fresh
that I couldn't help but be a fan despite the offending oil. The products are both USDA certified organic and non-GMO, so that's worth a lot in my book. They use herb essential oils and canola oil as their only ingredients. The packaging does the rest – and it doesn't taste like metal!
Onto electric muscle stimulation. There were like, 5,000 booths of the same thing at the expo (really more like 5) which made things overwhelming. All of them were trying to sell me this weird little device that stimulates your muscles with electricity. Here's a thing – 
it really works
. I'm not the type of person to have random muscle/back pain since I started drinking bone broth and upping my magnesium intake, but for those of you who do have muscle pain, actually work out more than once a week, or can't get relief otherwise, this thing is amazing. Both reps I went to (I tried out two different company's products – they were both the same with different prices…literally the only difference was the brand label) put the electric pads on my shoulders. The machine felt like a mini-massage except that it stimulated my muscles to the point that my shoulders were contracting. I could feel them move up on their own and it was the freakiest thing. This machine would be fantastic for someone with late-stage Multiple Sclerosis, who has difficulty stimulating muscles otherwise. Although I don't feel like I need it, I highly recommend it for people with chronic pain.
Finally, I found something paleo-ish and it was beer!
Ground Breaker
is based in Portland, Oregon and I can finally feel like I can drink a real beer without getting some watery, strange substitute. My favorite was the Olallie, which is a blackberry and rose hip flavored beer. All beers I tried had a strong, crisp taste and I loved them all. Pictured here are only three flavors. They have a bazillion additional seasonal flavors including squash and stone fruit. They also have a gastropub in Portland, which I definitely need to visit next time I'm there, hopefully visiting my buddy Tim (or moving there – *cough* who knows?).
This is a review for/from my mom. I didn't catch these ladies the first day of the expo, so I swung back around the next day at the urgence of my mother to get her some more samples (and try them out myself, of course). "You need to see the blonde lady with the lotion, Michelle." – My Mom
Well I saw the blonde lady with the lotion and she was so sweet. She gave me "as many free samples as I wanted" which turned out to be 5.
Their lotions
smell incredible, are made with safe, organic ingredients, including shea butter, which is my all-time favorite thing to put on my skin. My mom and I both highly recommend if you're looking for a good lotion that won't make you break out in hives.
---
The People
I ended up talking to chef Robert Landolphi and Nadine from The Gluten Free RN, who were easily my two favorite speakers at the expo. Chef Rob gave us some fantastic advice about baking with mixed gluten-free flours (60/40 ratio), soaking fruits, and adding some good flavors. He was also a fantastic speaker and so very kind. As it turns out, we've both worked for the Food Network, so we bonded over that.
Nadine had some fantastic information about celiac disease and she also took a fluoroquinolone, experiencing peripheral neuropathy, joint pain, and all that goodness. Some FQ symptoms are similar to celiac, so if you have any of the weird symptoms I had, but haven't taken an FQ, you may want to take gluten out of your diet. She also explained to us that celiac affects people neurologically over everything and that, yes, one of the most common symptoms of celiac disease is chronic headaches. This entire time, I have had celiac disease, you guys. I don't care because I stopped eating gluten a year ago, but still. If you have headaches or migraines or whatever every day, it's worth removing it from your diet. As Chef Rob has taught us, you don't really have to give up much.
From her, I learned that gluten can affect different people in different ways, including rashes, discolored teeth, hair loss, stomach pain, and even symptoms of myasthenia gravis. Seriously, if you're having any strange health issue "no one can figure out," take it out of your diet for a few months and see what happens. I had no idea I was so sensitive to it until I actually took that leap.
---
My Favorite Product
I tried True Foods Inc's Veracha hot sauce and fell in love. It's the only product I can fully endorse, since it's paleo-certified and incredible. Veracha is a vegetable-based paleo sriracha sauce with a mild spice. Ingredients include tomato puree, jalapeño puree, butternut squash, carrots, garlic powder, distilled vinegar, spinach, onion powder, salt, and cayenne pepper. I have no idea how they made a few simple, wholesome ingredients taste like the best sriracha I've ever had, but it exists and it's so damn good. I will always regret not buying 5 of these bottles instead of one. You can get their ish at Whole Foods, Amazon, Safeway, Big Y, and other places for around $20 a pop.
---
What I Learned
Food Allergies are considered a disability under the American Disability Act.
Properly aged cheddar doesn't have any lactose.
Celiac disease can manifest in different ways for different people. Most symptoms are neurological.
I have celiac disease.
You can get a massage from electricity.
Soak your fruits before baking with them.
Soaked milled flax seeds are a good substitute for baking/cooking with eggs.
---
I had a wonderful time, tried some delicious foods, and met some wonderful people along the way. Thank you GFAF for having me, Bfree foods for flying in from Ireland and providing a killer breakfast, and Enjoy Life for sponsoring. Seems like I'll be back next year!